Social Styles 5-Learning About the Amiable
Social Styles 5-Learning About the Amiable
Why are Social styles important?
In my previous posts on Social Styles, I have stressed the importance of understanding these styles.  Your ability to communicate with these different styles of people will make a huge difference in the profits at your bottom line.
Today, I want to discuss the last of the 4 Social Styles, the Amiable.
What is the Amiable Social Style?
Amiable are, well…amiable.  They are very people and question oriented. They are easy to get along with.  They are friendly listeners who enjoy personal contact.  They place a high priority on getting along with others.
Amiable have soft, pleasant voices.  Their speech is slow.  They have open and eager facial expressions.
They take time to establish relationships. They believe progress comes from people working together.  They like to make progress at a slow, steady pace.
Their natural tendencies are coaching and counseling.
Their motivators are seeking approval, being included as part of a group or team, and having a positive impact on others.
Amiables have much in common with Analyticals and Expressives, but are diametrically opposed to Drivers.
What does the dialogue of an Amiable sound like?
Remember that Amiables are ask directed.  This means you will need to ask a lot of questions.  You have to be patient.  Amiables want to build relationships first. They may not seem concerned with the time spent or deadlines.
Here are some other things you can expect:
They want you to show them personal support.
Give plenty of verbal and non-verbal feedback.
They are interested in questions relating to long-term goals.
They may suggest you talk to others. If they do, follow up. Not doing so may kill the relationship
They want assurance as to who you are and what you believe
You are expected to be open and honest
You will need to sell yourself to an Amiable before they make any decision
How do you approach an Amiable?
The good news here is Amiables are easy to approach.  They are very open and friendly.
Here are several ways to approach an Amiable:
Be relaxed and patient
Make small talk
Ask questions about their personal goals.
Keep a slow, steady pace. Remember people come first.
Don't try to promote your agenda as revolutionary. Amiables like things with a proven foundation.
Don't rush your close. Let them come to their own conclusion.
In Conclusion.
The main take away from this brief outline of the 4 social styles is the need for you to learn to be flexible.  Remember Stephen Covey.  "First seek to understand, then be understood."  Seek to understand the way your prospect communicates with the world. You will then open the door to show your prospect how you can fulfill his needs.
What I have presented in these posts has been the barest of outlines of these Social Styles.  To learn much, much more, I strongly urge you to click on the link below to buy Larry Wilson's terrific book.
(Full disclosure.  I am a Powell's Affiliate)
The Social Styles Handbook: Adapt Your Style to Win Trust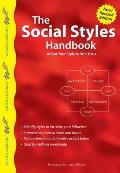 by Wilson Learning LibraryTrade Paperback