Social Styles 4-Learning About the Analytical
Social Styles 4-Learning About the Analytical
Why are Social styles important?
This is the 4th post in the series on Social Styles.  In my previous posts,  we discussed how essential understanding these styles is to building trust with prospects, customers, clients, employees, and partners.  Your success depends on these relationships.
Today I want to discuss the Analytical Social Style.
What is the Analytical Social Style?
The Analytical Social style is the most easily described and may be the most misunderstood of all the styles.  Think of a scientist, an engineer, or an accountant.
Analyticals are totally task focused and will ask a lot of questions.  They are fact gatherers and number crunchers.  They want to make sure they have all the information before they make a decision.  This tendency sometimes makes them seem indecisive because there is always more to know.
They are reserved. Their speech is proper, formal and deliberate.  They make few gestures.  They are good listeners.
They take the time to develop personal relationships.
They are excellent planners and organizers.
Analytical tend to move slowly and with precision. They tend to think the process of reaching a decision is as important as the decision itself.
Their goals are making the right decision in the right way. They want to enhance their reputation as a technical expert.
If you try to move them too quickly, it will make them very uncomfortable and may damage the relationship.
Analyticals have much in common with Drivers and Amiables. As you can see from the grid, they are diametrically opposed to Expressives.
What is dialogue with an  Analytical like?
Analyticals love slow, orderly, fact-filled presentations.  Here's what you can expect:
They expect you to be prepared
Ask detailed fact-oriented questions
Stay focused on the topic
They want flexibility. Give them time to consider alternatives to what you present.
Give them facts supported by data.
Listen carefully and take notes. Give them time to finish and ask follow up questions.
Offer confirmation of what you bring to the relationship.
How do you approach an Analytical?
Approaching an Analytical may seem difficult as they often appear remote.  But,  doing a little homework will smooth the way.
Do some research before you go. Find out as much about their situation as you can.
Don't engage in a lot of small talk in the beginning.
Adopt a predictable, slow, task oriented approach
When you make a proposal, try to make sure it aligns with their current belief
Support your proposals with a lot of facts and figures.  The more data the better.
Try to state your opinions in the form of a question, "What are your thoughts about X?"
In Conclusion
As business owners, you will be dealing with all these Social Styles.  Understanding the ways to engage them will deliver amazing results in the form of profits on your bottom line.
Note:  The material in this blog was developed from information featured in "The Social Styles Handbook" To find out more, please click on the link below to order Larry Wilson's great book
(Full disclosure, I am a Powell's affiliate)
The Social Styles Handbook: Adapt Your Style to Win Trust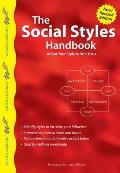 by Wilson Learning LibraryTrade Paperback