Social Styles 2-Learning About the Director
Social Styles 2-Learning About the Director
Why are Social Styles important?
In my previous post ( http://ow.ly/Zfpn30bKoSK ), I discussed the 4 social styles people use to communicate with each other.  We all fall into one of these styles. People in some of these styles communicate easily with one another, yet others can't seem to communicate at all.
Why is it important to know these approaches?
Want to build meaningful relationships with your prospects, clients, and customers? Then you need to understand these styles.  More important, you need to be flexible in the way you approach people of different styles.
One thing I want to emphasize here. This is not about being manipulative in any way.  It is about learning how others engage the world.  Remember Dr. Stephen Covey's famous dictum, "First seek to understand and then be understood."
Today I want to discuss the social style known as the "Director"
What is the Directors style?
Directors are take charge people.  They are very task oriented and laser-focused on results. They also tend to tell people what to do and not ask a lot of questions.
Drivers have strong opinions, they are direct and to the point.  They love challenges.  They are very likely to correct, challenge, modify or add to others ideas.
Drivers tend to be impatient.  They want results quickly or at least have a well defined time line.
Relationships are secondary to Drivers.  They want to see the task defined and the plan to achieve it first.
Details are important to Drivers, but they are not much interested in every little nuance.  They do want to make sure every possibility has been covered.
Directors have much in common with Analyticals and Expressives, but are diametrically opposed to Amiables.
What is dialogue with a Driver like?
First conversations with a person are known as the dialogue stage.  This is where you will discover a person's Social Style.  Here is what you can expect when first engaging with a Driver:
They expect you to be task oriented.
They want to make efficient use of their time. Keep up the pace.
Ask fact-finding questions that will help you understand their priorities.
They want to learn about you and how you might fit into their business. Don't wander off into personal discussions.
They want to know how your ideas can support their agenda. Remember, they want to be in control.
They will let you know they want to make the final decision. They want to know the odds of success.
Follow up immediately with any requests or additional information you agreed to supply.
How should you approach the director?
Approaching the Director requires a bit of a balancing act.  You need to be direct.  Don't wander.  Yet, you need to take time to build trust as this is very important to a Director.
Other areas to include are:
Be sure include a purpose statement at the beginning. Let them know why you are meeting.
Focus on the Director's ideas, goals, and interests
Present facts that apply directly to them. Focus on benefits.
Be prepared to provide lots of information.
Don't engage in small talk.
Include a payoff statement. Let them know what you intend to accomplish in your meeting.
In Conclusion
As a small business owner, one of your greatest challenges is building relationships with your prospects, clients, and customers.  Understanding your social style and theirs will help you accomplish this with amazing ease.  I urge you to find out as much as you can about this subject by reading Larry Wilson's great book "The Social Styles Handbook". 
Just click on the following link (Full disclosure, I am a Powell's affiliate):
The Social Styles Handbook: Adapt Your Style to Win Trust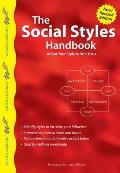 by Wilson Learning LibraryTrade Paperback
Note: This blog was developed from information presented in  "The Social Styles Handbook".