Duct Tape Marketing-A Book Review
Duct Tape Marketing-A Book Review
Today I am reviewing Duct Tape Marketing, The Worlds Most Practical Small Business Marketing Guide, by John Jantsch.  (© 2006 by John Jantsch All rights reserved. Published in Nashville, Tennessee, by Thomas Nelson. Thomas Nelson is a registered trademark of Thomas Nelson, Inc.)
As small business owners, we must recognize, like it or not, we are in the marketing business.  When you're starting out, it's hard to know what to do or when to do it.  In Duct Tape Marketing, author John Jantsch gives solid advice on building marketing plans that work.
In Part 1 of the book, Jantsch describes in detail how to build a sticky marketing system designed to help your prospects know you better and like you more.  There is sound practical advice on building a core message, creating marketing materials, and building a web site without breaking the bank.
In Part 2 there is sound advice on using various types of media, from ordinary print and direct mail, up to and including the internet. Here you can find ways to generate leads, turn leads into prospects, prospects into client, and clients into partners.
Part 3 concludes the book describing how to take what works for you and then do more of it.
The only fault I could find this book, was that it left me with the impression that you needed to do it all in order to succeed.  I feel, in reality, you should pick one or two things most suited to your situation, and pound away at those for a while before moving on.
That said, I still found this book to be an excellent guide for anyone who is a small business owner and particularly anyone who is considering starting a small business.
If you want to order this book now, just click on the link below the book jacket image to get it from Powell's Book Store in Portland.
(In the interest of full disclosure, I am a Powell's Affiliate.)
Duct Tape Marketing The Worlds Most Practical Small Business Marketing Guide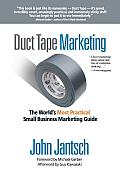 by John JantschTrade Paperback